Introduction
"The MicroPsi agent architecture describes the interaction of emotion, motivation and cognition of situated agents, mainly based on the Psi theory of Dietrich Dörner. " The architecture also makes use of BDI (Belief, Desire, Intention) ideas.
Research Group
The research is done by the
MicroPsi Project
of the
Universität Osnabrück
and the
Humboldt-Universität zu Berlin
, which is lead by
Joscha Bach
.
Systems built from this architecture
MicroPsi is the only system. The project group has opened up the source code, so anyone can make additional modules.
Supported Cognitive Faculties

Goal-directed behavior and planning
Emotion
Long Term Memory
Workspace
Perception
Action
Motivation
The architecture: main data-flow, main control-flow
No known software architecture comes to mind when viewing MicroPsi's architecture. It is a form of Distributed Computing. The control flow seems to be combination of
Emulated Parallel
and
Event Based
.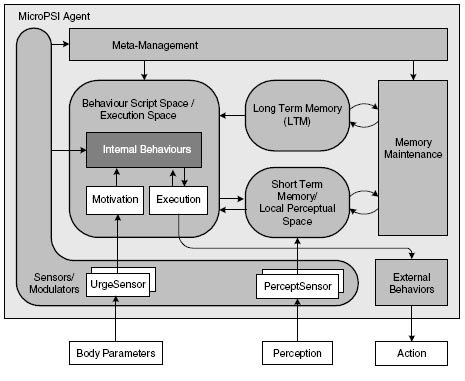 Links
Major articles
Books
None